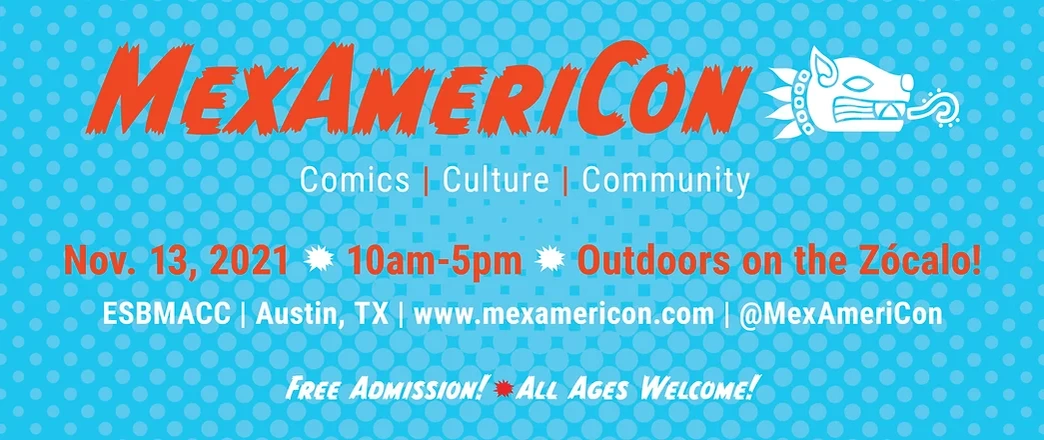 Woo, what a weekend!! On top of preparing products for a booth at the Blue Genie Holiday Art Bazaar here in Austin, I also got invited to exhibit and become a panelist at the MexAmeriCon, Austin's only Mexican-American comic convention.
My experience at MexAmeriCon:
The convention took place at the Emma S. Barrientos Mexican American Cultural Center in downtown Austin, featuring an open gallery, artists, panels, live music, DJ sets, and a live lotería contest with a fun MC. And I had a blast!
I think this was the first time I tabled outdoors, which was pretty awesome. The weather was perfect and everyone was in good spirits. The MexAmeriCon staff were very organized and extremely nice, they had table spaces, tents and tasty snacks for exhibitors. Honestly, all around A+ on my list!
All day I met so many incredible fans, artists, families, art enthusiasts, and all around great human beings who were nice enough to stop by my table.
Here's a highlight of people who I was lucky enough to meet in person that day:
ATX Caminos:
I had a blast meeting some of the students from ATX Caminos, which is a wonderful internship program that empowers teens into participating and becoming leaders in the creative arts here in Austin. A while back, they did a IG post highlighting my work and how it inspired one of their students to create a comic based on their own experience as a Mexican-Honduran-American in high school. The comic is my absolute favorite and you can read here (it's so relatable!!).
Anyway, I was very happy to meet them in person and check out their exhibitor table where they had free copies of their students' zines. Of course I had to snag some before they were all taken, and I can't wait to read them all!
Definitely give them a follow on Instagram, Facebook, and check out their site. Their applications for their Camino Class for 2022 is currently open to those ages 15-18 in Austin area. If you know of any teens that may be interested in the program, please let them know and Apply here!
Cool artists I've met:
Aside from meeting young emerging artists, I also got a chance to make new pals with some of the exhibitors. Here are some folks I got a chance to buy/trade stuff with:
Isabel Ann Castro: the second half of the St. Sucia, I was really happy to finally meet Isabel in person! We've been following each other online for years and despite living in close proximity, we actually haven't gotten a chance to meet at all! So I was able to snag myself a beautiful handprinted Skull Bart Simpson greeting card and a copy of "WINNER: A Lottery Zine". And let me just say that this lottery zine is so freaking innovative! The cover design is an actual scratched out lottery ticket with a featured lucky penny inside and has a section where you can write your goals when you win the lottery… it's all so cool and this is the reason why I love zines!
Anyway, you should def check out Isabel's shop, lot's of creative stuff on there, super inspiring!
Daron Antonio Smith: So I met Daron at earlier zine festivals in Texas pre & post-pandemic, so it was a delight to see him again this time at MexAmeriCon! Last time we met, it was at Paper Trail in San Antonio and I wasn't able to buy any of his zines, because homeboy sold out!! Great for him, but I really wanted to read his stories, Grrr! But fortunately, this time I was able to grab some copies of his Psychic Xicana series and his new series "The Adventures of El Aguila"; and they were both super fun reads! I haven't read a lot of superhero comics lately, but these comics were really refreshing stories with a twist of indigenous culture and Mexican myths: so yeah, more of that please! Anyway check out Daron's stuff, it's really cool!
Analysa Castellano: I also got a chance to meet Analysa back at Paper Trail. It was one of those moments when I was able to sneak away from my table for a sec, walked by her table, fell in love with her work, and promised to come back to buy something before the festival ended. And of course, that promise of return didn't happen and I was stuck at my table for the rest of the festival: ahh, the pains of being an exhibitor ( ;; n ;;). BUT, I was very excited to see that Analysa was tabling at MexAmeriCon! This time I was able to buy some cute handmade pins, and stop myself from buying her original paintings because they were absolutely gorgeous, and atlas I am a broke baby :( But I will be coming back for more of her stunning work and I recommend that you check it out~
Sueitko: I absolutely loved meeting and talking with Sueitko and their partner Moji this weekend! They're such incredible artists, poets, and human beings, I feel very lucky to have met them. During our panel together, Sueitko would talk about their own experience with representation as an indigenous artist from the Totopek community. It was really interesting hear that their first impression of comics was in relation to their own indigenous language, which doesn't utilize letters but rather use pictures…kind of like comic panels! I thought that was a really cool fact and I love hearing and learning more about Totopek culture. Sueitko is proud of their beautiful indigenous culture and does a fantastic job educating folks on their instagram which I hope you check out!
Carina Guevara: I gotta be honest and say that I'm actually a shy baby in person, so I tend to not walk around to visit other exhibitors' table until I've gathered enough courage to do so (and it's usually towards the end/during busy foot traffic). So when Carina was one of the first people to stop by my table, I immediately felt at ease and comfortable enough to leave my post and check out her work…And I'm so glad I did because ho boy does she have some stunning artwork!! As soon as I saw my favorite boy Monkey D. Luffy and my partner's favorite otp Harley x Poison Ivy fanart as art prints, I knew I was amongst anime kin haha (and I bought them of course!! lol). I wish I had more money to spend on more illustration and comic prints, but I will return for more >:) Anyway, I highly recommend checking out Carina's work, you won't regret it!
They're all incredibly talented and fun folks, I'm so happy I got a chance to step away from my table to check out their work. I already miss everyone haha. :D
Panel experience:
In addition to tabling, I was also invited to speak on a panel about diversity in Latinx spaces featuring Isabel Ann Castro & Sueitko, and moderated by Kevin Garcia. We had a superb time talking about our work, our experience in working in comic spaces (that are usually white-male dominated), and the importance of representation. This was my second panel with Kevin, who was a fantastic moderator and always ask great thought-provoking questions (if you ever need a moderator for panels, go to him!).
And that pretty much wraps up my weekend review, I was exhausted by the end of the day but had a fabulous time. I honestly can't wait to attend the next MexAmeriCon, it's a super fun event that I hope catches more attention every year. It's family-friendly and it was cool to see so much love and enthusiastic energy that the organizers put into this event. <3