Miss Quinces
An Indie Best-Seller of 2022!

Rising star Kat Fajardo's debut middle-grade graphic novel about a girl who would rather do anything other than celebrate her quinceañera!
Sue just wants to spend the summer reading and making comics at sleepaway camp with her friends, but instead she gets stuck going to Honduras to visit relatives with her parents and two sisters. They live way out in the country, which means no texting, no cable, and no Internet! The trip takes a turn for the worse when Sue's mother announces that they'll be having a surprise quinceañera for Sue, which is the last thing she wants. She can't imagine wearing a big, floofy, colorful dress! What is Sue going to do? And how will she survive all this "quality" time with her rambunctious family?
. . . . . . . . . . . .
Sue solo quiere pasar el verano leyendo y haciendo cómics en el campamento con sus amigos, pero en lugar de eso se embarca con sus padres y sus dos hermanas en un viaje a Honduras a visitar a la familia, que vive en medio del campo, ¡así que no podrá mandar mensajes y no tendrá cable ni internet! Las cosas empeoran cuando la mamá de Sue anuncia que le harán una quinceañera sorpresa a la chica, aunque esto es lo último que ella desearía. ¡No se imagina vistiendo un vestido enorme, abultado y colorido! ¿Qué podrá hacer? ¿Cómo sobrevivirá todo este tiempo con sus revoltosos familiares?
Publisher: Scholastic Graphix
May 2022 • 256 pages • full-color
ISBN: 9781338535594
Junior Library Guild Gold Standard Selection
"Fajardo's colorful artwork is lively, full of emotion, and done in a style that will appeal to fans of Raina Telgemeier and Jen Wang." — Booklist

"Breezy paneling and cartoony art bring humor and warmth." — The Bulletin of the Center for Children's Books
What was the inspiration for the story?
Well, Miss Quinces is a semi-autobiographical story based on my own experience with my quinces! Just like Sue, I didn't want to have one AT ALL. I was a shy, artsy goth kid and the last thing I wanted to do was present myself in front of my big family in an big fluffy dress!
But because it was a family tradition and I wanted to make my family, especially my abuelita happy, ultimately I did have my own ceremony...
...And I didn't regret it one bit, embarrassing pictures and all!
If you're lucky to have a quinces, it can be such a beautiful experience to share with your family and friends. Every part of the ceremony has important meaning and it's just a part of one's family history.
And I wanted to share that sentiment with you all :)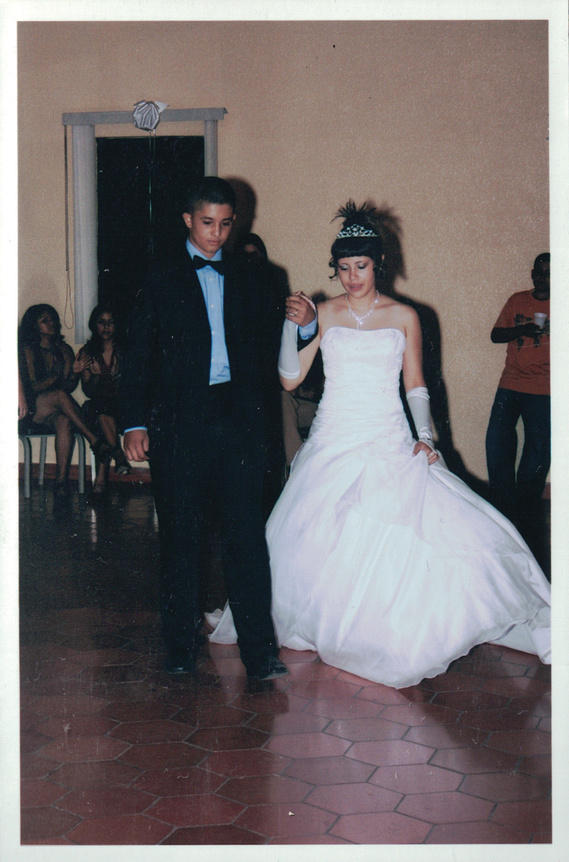 Who will enjoy this book?
Well, lots of different types of readers, especially:
♕Teens who are expecting to have their own quinces soon!
♕People who have never heard of quinceañeras.
♕Teachers & librarians! (great educational material to add to curriculums especially during Hispanic/Latine History Month.)
♕Quinces veterans who would like to read a story similar to their experiences.
♕Readers who like silly, coming of age stories jam packed with fun adventures.
♕People who feel like outsiders in their home or at school.
♕And honestly, anyone who have dealt with their loud and chaotic family!!
And I'm very excited to say that Miss Quinces will be the first graphic novel published by Scholastic Graphix to be simultaneously released in English and Spanish editions.
So everyone can enjoy this graphic novel, especially kids with their Spanish-speaking parents (something I wished I had growing up!)
Miss Quinces Reading Guides now available in English & Spanish!
Guía de lectura en español
Places where you can find a copy!
¡Lugares donde puedes encontrar una copia!