This month, I had the honor of joining some fabulous Latine artists for a gallery show at the Centro Cultural Aztlán in San Antonio for their 45th Annual Segundo de Febrero Exhibit: Mapping New Narratives.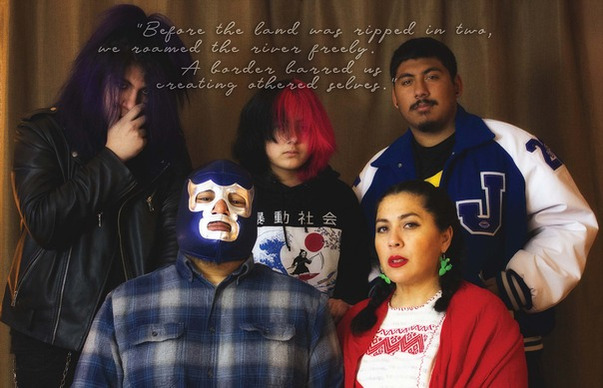 Growing up in NYC, I was unaware of the cultural significance of Feb. 2nd and how important it was for Hispanics living in Texas, Colorado, Arizona, and California.
I didn't know that this particular date (also known as Segundo de Febrero) marked the official end of the Mexican-American War with the Treaty of Guadalupe Hidalgo. This treaty created a designated boundary between Texas and Mexico using The Rio Grande as the divider and as a result of this, a new population of Mexican-Americans were formed. As for Mexicans who foudn themselves on new U.S. territory, they had the choice of remaining Mexican citizens, returning to Mexico, or claiming U.S. citizenship.
So when I received an invitation to submit work for the 45th Annual Segundo de Febrero show, I wanted to honor the culture and historical significance of the holiday by creating a brand new comic!
My contribution for the show was a 3-paged comic called "The Smell of Memories", which is a love letter to the Proust Effect I experience whenever I smell something that reminds me of memories of my childhood in Honduras. It's a bitter-sweet feeling I experience because it's associated with lovely memories but it can be a lonely experience when you're miles away from your home.
I couldn't attend the opening reception of the show but I was able to take some pics of the pieces before I shipped them out! It was a fun comic to make and I hope people enjoyed the story.
You can read the full comic on my Ko-Fi, early access available for subscribers!
More info about the show: curator/lead artist was Héctor R. Garza and participating artists include: Frederick Luis Aldama with Oscar Garza, Fernando Andrade, Terry Blas, Jesse Burciaga, Alexandria Canchola, Isabel Ann Castro, Monica Estrada Saldaña, Hector R. Garza, Omar Gonzalez, Ruth M. Guajardo, Alejandro Macias, Gabi Magaly, Angelica Martinez, Ben Muñoz, Zeke Peña, Alan Serna, Jesus Trevino, Jose Villalobos, and myself!
Show is up until March 4th, 2022!!